Playful dance costumes for children do wonders to your child's dance affairs. It's a fact: when you look good, you feel good. This applies to kids too, and this is why it's crucial to select a getup that makes your child feel good.
When your child is in good spirits, they're likely to perform their dance numbers better. Even more importantly, they'll have fun as they perform their routine. This fun will spill over every aspect of their dance, and not only will your child feel terrific, but also the audience gets to have a taste of those good vibes.
It helps to remind yourself every now and then that your child is exactly that: a child. Thus, it's vital you bedeck them in costumes that let their energy and enthusiasm shine through. These 2 characteristics help them go a long way in their dancing, especially if they intend on making a career out of it.
Stumped on how to come up with fun, whimsical dance costumes for your child? Worry not, you're in the right place. Take your pick from these 5 merry getups, or choose them all!
1. Minnie Mouse–inspired polka-dot dress
Nothing screams childhood than Disney. It has been around for so long it has permeated into society's collective consciousness. Everyone can relate to Disney, and while adults too are free to enjoy its shows and offers (of course!), most people think of children when they come across this marketing giant.
Let your child channel her inner Minnie Mouse with this pink polka-dot number. It comes in a cool pink tone and matching white belt that gives off an "I may be a child, but I'm stylish too, and I'm having fun" vibe.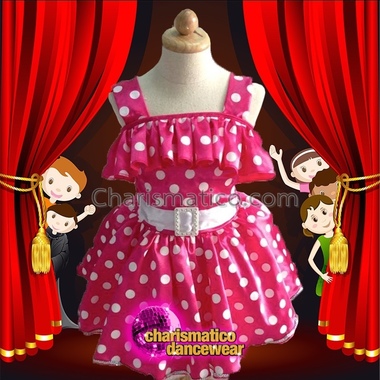 The frills in the chest area and the skirt's ruffled hem add swing and movement to every twist and turn. These details also give the impression of your child floating along, feeling the music's groove. And they amp up the amount of fun your child's having!
If you want to make your child feel like she's Minnie Mouse, well, this is definitely the dress you should go for. She's a child, after all, and it helps to every now and then indulge her into the world of play and imagination.
This exercise not only helps her grow as an individual but also promotes creativity that could extend well into her dancing interest. Encourage this creativity with this pretty polka-dot number.
2. Disco ball–inspired black leotard
Want your child to go for a theme that's extraordinary and unconventional? While you're at it, why not pick a dance costume that gives off a futuristic, nonconformist vibe?
This shiny black leotard is the perfect number for kids who prefer the nontraditional route. One look at this baby, and you'll know this is the ideal garb for kids who want to pretend they're extraterrestrials. Or maybe a shiny disco ball. Or maybe Lady Gaga.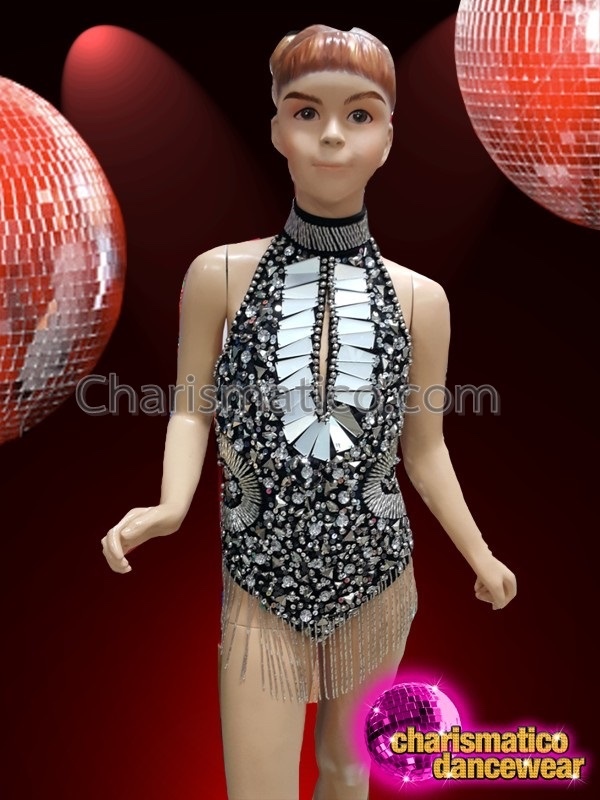 Whatever the intention, your child will surely be delighted with this silver-speckled dance costume. Its halter cut and sleeveless style permit a wide range of free, unhampered movement. The fringe bottom adds sass and sophistication to your child's dance steps, and the Lycra material adds comfort.
3. Princess Aurora–inspired lace dress
Every girl has, at one point in their life, dreamed of being a princess. What's more, they don't just want to be any princess: they want to be a Disney princess.
What better way for your child to realize this dream early on than by going for a Disney princess–inspired dance costume, specifically one inspired by Princess Aurora? This pink lace dress has royalty printed all over it. Both color and material complement each other, and the details make this dress highly attractive.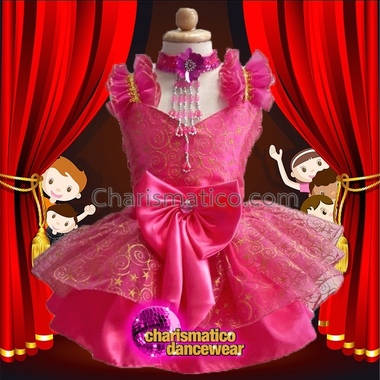 In addition, the huge bow detail in the middle reminds one of childhood. After all, female children often have their hair adorned with ribbons and trims. Throw in the lace and the gold accents, and you've got yourself a number fit for royalty.
4. Showgirl-inspired green dress
Dance presentations are fun and festive events in themselves. But throw in an equally fun and festive dance costume, and you've got yourself an unstoppable combination! How about you harness this power into your child's dance costume then?
This lovely showgirl-inspired green dress helps you achieve just that. The unlikely combination of green and black adds a refreshing twist to the usual colorful showgirl costumes. The black hue lends a touch of class while the green tone supplies a pop of color.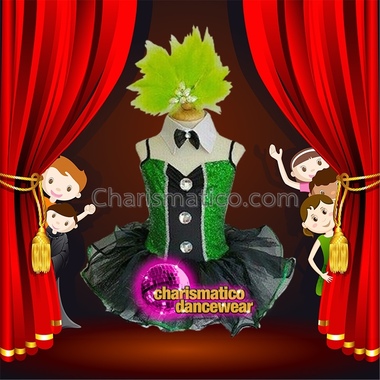 When worn on your child's dance performance, the dress becomes a force to reckon with. Shimmering and dainty, it draws the audience to your child. Three bold silver buttons in the middle command stage presence, and the collar and headdress provide the final whimsical touches.
Your child will surely feel like a celebrity when she dons this number.
5. Diva-inspired gold floral dress
Other than being a princess, little girls too dream of being a diva—you know, one who commands presence, power, and respect. To be the ultimate image of girl power, and to show other females they can be anyone if they put their heart to it.
This gold floral dress may, at first glance, seem soft and delicate. But don't let its soft and feminine details fool you. The sequined bodice—in gold, mind you—reminds one of the steel plate armors of knights and royals. What could be more regal than that?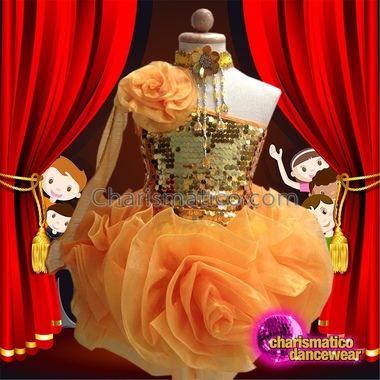 Fancy lace shaped into floral detail softens the otherwise toughness exuded by the gold sequins. This combination of seemingly opposite elements leads to a dress that deserves to be hailed as one of the ideal playful dance costumes.
In addition, the floral choker draws the observer's eyes upward, to your child's face—that is, after they've been mesmerized by the details in the dress itself. Horizontal beadings in the choker lengthen the roundness present in the material. Thus, even with all the details in the dress, your child's overall look is one that is of balance and symmetry.