How to Clean Sequins and Feathers
Every single female on the planet, and probably a lot of men too, have at least one outfit that has sequins or feathers on. Maybe it is right at the very back of your wardrobe and was bought to wear to a New Years Eve party which is now just a blurry but sparkly memory.
Or maybe you have a favourite jumper with sequins on that you bring out without fail every winter. To be worn at work or to special family events to make you feel extra festive around the holiday period. It is then cleaned, carefully, and put away safely to be worn again in another year.
Lots of winter coats may have real feathers on, and with all the bad weather and rain that we get in winter, it is no mean feat keeping the feathers clean and looking as beautiful as they did when the garment was new.
However, if you are a dancer then it is highly likely that you will have not just one but many outfits with sequins and feathers on. Often these costumes need to be worn many times, especially in the case of a dancer being in a show that can run for weeks. The costumes need to remain looking, and smelling, their best. Equally, of course those costumes are going to be vigurously danced in with the dancers giving it their all, so they may get dirty quite quickly. Nobody wants a smelly dancer.
Thankfully, we know a few hints and tips on how to keep your garments at their best, ready to dazzle for your next show-stopping performance.
Sequins
Step1. Read the instructions that came with the costume
The chances are there may be some instructions either on the label, or that came with the garment. Make sure you always keep these instructions somewhere safe and re-read them when you are about to wash it. It may give you specific instructions on how to make your garment come out best.
Step2. Find a tub or sink
It doesn't need to be massive, but it does need to be an area that you can fill with lukewarm water with enough space to fit the garment in without crushing it too much. It is likely that a full ballroom gown is going to need a bigger tub than something like a corset.
Step 3. Turn the garment inside out where possible
This is a very important step but not always one that can be followed. Try your best to turn your garment inside out, but be gentle with it and show it the love it deserves. For example, this Charismatico red fire glamour show girl sequin corset may be impossible to turn inside out.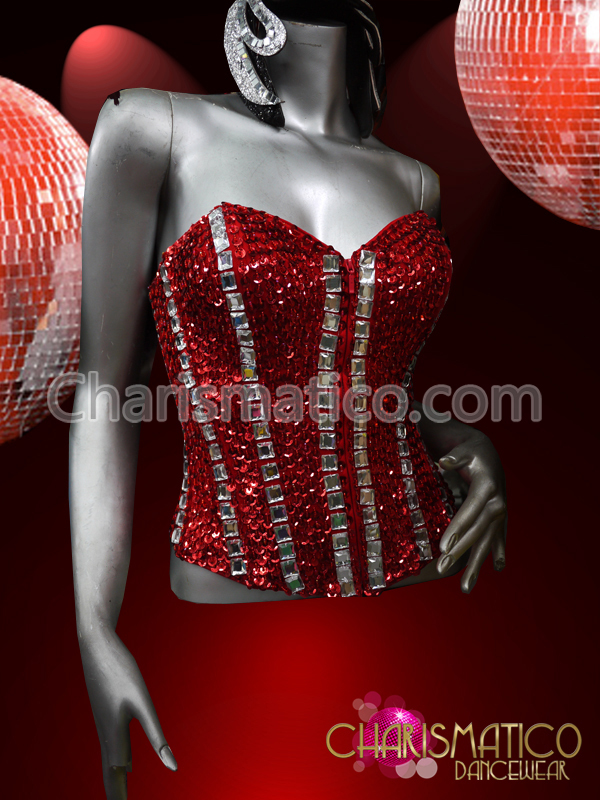 Step 4. Use a gentle, non-biological laundry soap or detergent
The brand of soap you could use will depend on where you live, but make sure you read the instructions carefully. A biological detergent is going to be too harsh and will dull any metallic finishes or colours.
Step 5. Remove any stains
Once you have your tub filled with luke-warm water stir in the mild non-biological laundry soap until it's dissolved.
Add your sequined item of clothing and gently swirl it in the water before letting it soak for about five minutes. Next, remove it and rinse it in cold water until all the soap has washed out.
If you have a specific stain on one part of the garment then you can dab a gentle stain remover onto the stain to treat it before putting it in the tub. Just make sure you have read the instructions carefully and that it is a non-bio where possible.
Step 6. Dry it Carefully
Dance costumes are likely to be heavy and the water is going to weigh them down and make them miss-shapen if given the chance.
For example, you can guess how much a sequinned ball gown like the charming one shown below is going to weigh once it gets wet. When it is dry it sits perfectly on the chest and hips, and you do not want it to lose this gorgeous shape.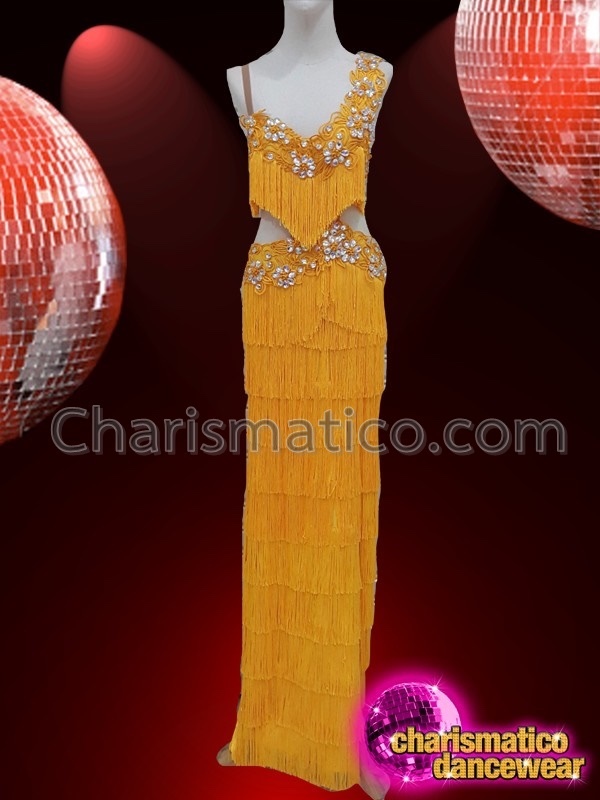 First you want to get all the excess water out by letting it drip over a sink. At this point you should be keeping an eye if there are more than one colour as they may run. At no point should you wring it out as this is only going to stretch it or knock off sequins.
Once the excess water has dripped out, lay the garment on a towel and let the towel do the drying for you. This may take a while, and changing the towel when it is wet with a dry one can speed this up. You do need patience when washing sequinned clothes, but they will be worth it when you wear it and they look perfect in the end.
Feathers
Feathers are even trickier to wash than sequins, and most of them do have a limited life span. If you just want to freshen up your garment or get rid of an unwanted odor then try storing your feather-covered piece in a pillow case or garment bag for a day or two. Put the garment bag in with some fresh sheets and this may be enough to freshen up the feathers.
If your feathers absolutely need washing, remember that feather dye is not colorfast and the colour may run. One way to limit the damage of this is to try your best to wash feathers of the same colour, so then at least the colours just stay as they are and do not mix.
To wash the feathers, again use a gentle non-bio detergent and mix it with warm water. Make sure you are gentle when washing the feathers, swish the garment around and DO NOT scrub them as this will damage them.
Do not do this for more than 5 minutes, and once you are done you then need to gently rinse or swish it in cold water to rinse the soap out.
Some feathers can then be air dried, but others like the ostrich feather will need to be dried by a hair-dryer on a low setting to avoid them looking shrivelled.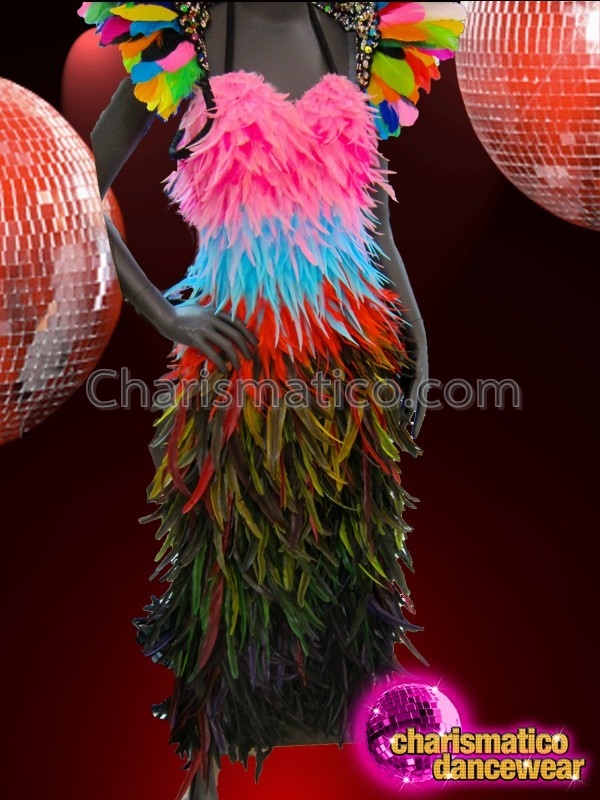 This Charismatico diva drag queen neon rainbow feathered pageant gown is an absolute wonder to behold, but it would be extremely hard to prevent the colours of the feathers runnning when it got wet. It would be best to keep this dress dry, and freshen it up with a day or two in an airing cupboard in a garment bag rather than washing it.
Things NOT to Do
Even if you follow all the steps above your garment still may get damaged, and unfortunately we can take no responsibility to what happens when a garment is washed. However, there are several things that should be avoided at all costs when washing anything with feathers or sequins on.
1. Do not get the garment laundered
You just don't know what chemicals they might use and they wont take responsibility if it is damaged.
2. Do not tumble dry any garments
The heat will cause untold damage to your beautiful sequinned dress or feathered-garment.
3. Do not buy bad quality clothes
This is our final and possibly most important piece of advice. You spent ages working out which was the best new costume set or headdress for you to buy, so do not fall down at the last hurdle by buying a bad quality one from a cheap seller.
Use a website that can be trusted to sell quality garments at great value like Charismatico and make sure that you read other buyer's reviews of the clothes as these will be honest and fair.