Latin dance: that sensual passionate dance style that tantalises the soul and is mesmerising to watch. Latin dance styles may have originated in latin america, but they are now being danced all over the world.
It is no wonder that this continent of fiery, impassioned, dark haired beautiful people has created a dance style that is both upbeat and has a sexy flair.
You may feel that Latin style dance is only to be danced by Latin Americans but this is no longer the case. Becoming a Latin dancer, whether professionally or just for fun is something anyone can learn and enjoy.
Helpfully we have made a list of 5 tips that every newbie Latin dancer should know in order to enter the exciting world of Latin dance. You will be cha-cha-ing and salsa-ing round the dance floor in no time, maybe even with a sexy Señorita or Señor on your arm.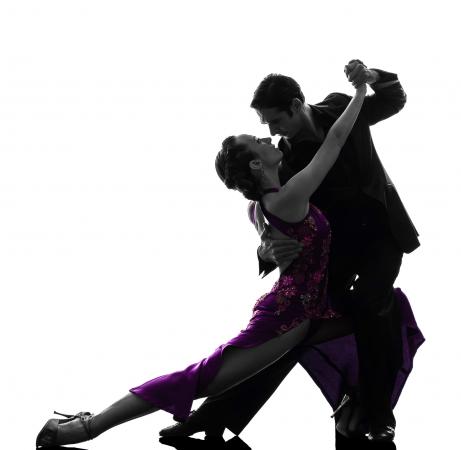 1. Which Dance to Choose?
There are several different dance styles within the category of Latin dance, and the dances can vary greatly so it is important to pick one that suits you best.
International Latin is the name of a category of International style ballroom dances. There are five dances within this list: Cha-Cha, Rumba, Samba, Paso Doble, and Jive.
There are also social Latin dances, often known as street dances. These include the Salsa, Merengue, Rumba, Bomba, Plena, Mambo, and Argentine Tango among others.
Already that list may seem confusing and overwhelming. Maybe you have been to cosmopolitan Mexico City and visited one of their hundreds of bars where Salsa is danced all night long, and now this is the dance for you.
Or maybe you are looking for a lively, rhythmic dance like Samba which has its roots in the Afro-Brazilian dance movement, an intriguing mix of cultures and dance styles.
If you are still undecided or unsure, read on to find out more information to make your decision easier.
2. Look Great, Dance Great.
We all know that when you look great, you feel great. One of the wonderful parts of being a Latin dancer newbie, whether you are competing or just having fun, is being able to wear the beautiful extravagant dance costumes. They are basically a requisite of dancing, so there is fortunately no getting out of wearing one. It's half the fun of the dance!
But again, the costume styles vary greatly from dance to dance.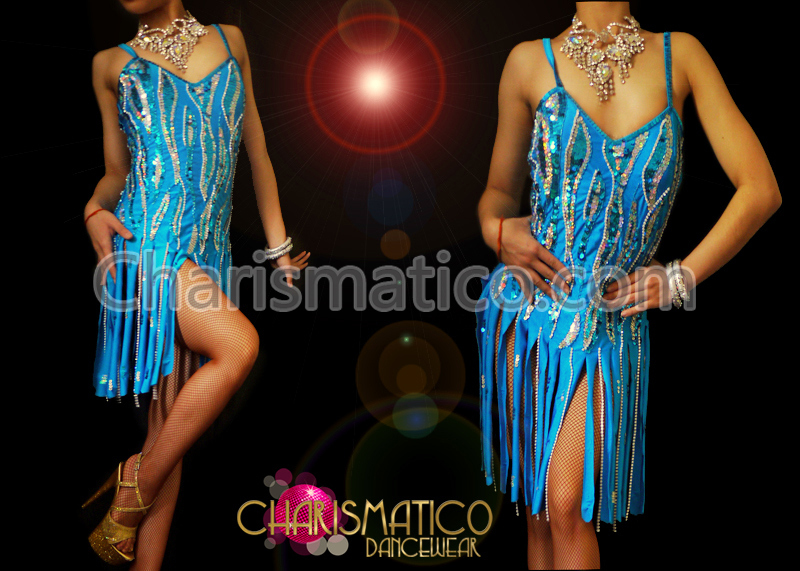 This Charismatico satin fringed beaded blue sequin Cha Cha dress (pictured above) is fun and flirty. You could cha-cha your way across the dance floor and have every eye on you as they enjoy your dance moves, and your eye-catching outfit.
But maybe you want something more elegant like this Charismatico yellow and ice blue teardrop sequin asymmetrical ruffled Rumba dress pictured below. As you can see these are two totally different styles of dress, for two very different dance styles. Both absolutely stunning and spectacular. Both give off a sensual vibe but will invoke different emotions in you when you dance in them. You have to ask yourself, how do you want to feel when you dance? Sexy? Beautiful? Elegant? Depending on your answer it will decide which dance style to choose.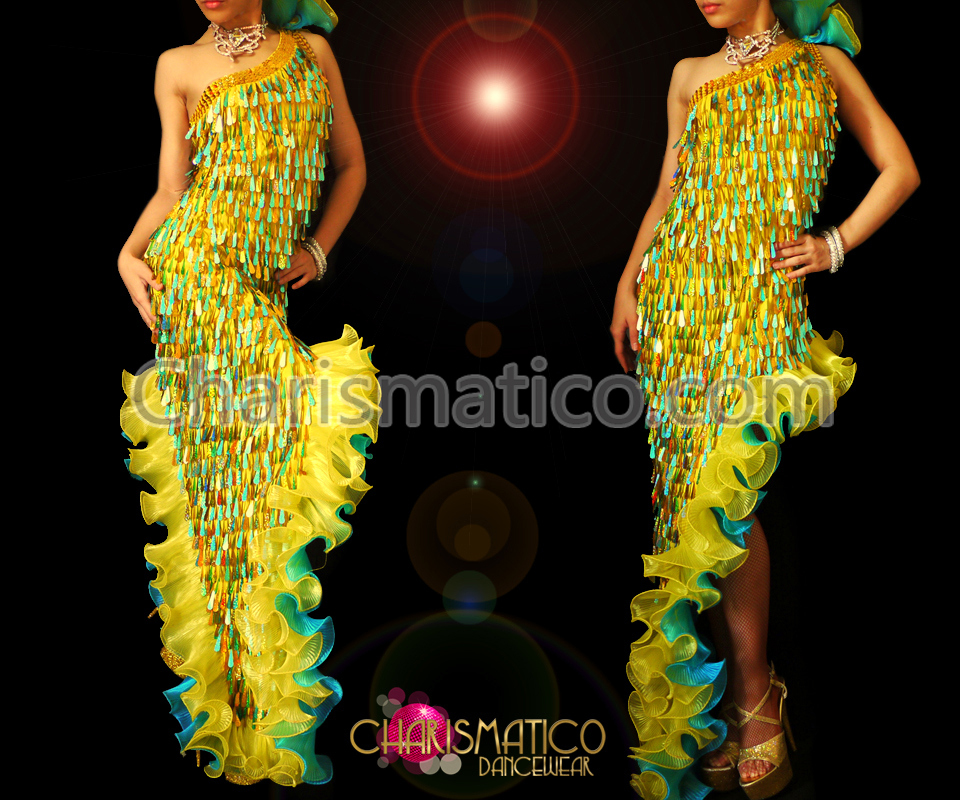 3. Find a Good Dance School.
There are thousands of wonderful dance schools all over the world. Of course some offer lessons just for fun, and may be small schools or even just an ex-professional dancer that runs their own classes to share their love of dance. You can do lots of research on dance schools in your area by looking online. It will depend where you live for example the UK or the USA. If you use the internet to search in your local area it should show you a list with plenty to choose from depending on your requirements.
4. Don't Worry About Looking Bad.
The only way we can improve anything is with time and practice. It is just the same in dance. Part of the beauty of dancing and particularly with Latin style dances is the freedom to just let go and feel free. You can lose your inhibitions and have a lot of fun as you let your limbs relax and move to the beat of the music.
If you are worried about making a mistake or looking bad, then you are not going to be relaxing into the music and dancing properly, and it won't feel or look right.
It may take some getting used to, and at first it may take some time to learn how to make your body unwind and loosen up so that you can really feel the dance style. And there will be times when you make mistakes and probably look a bit silly. But let us tell you a little secret: every newbie dancer goes through this. It is a right of passage to fall over, or maybe hit yourself in the face when trying out a new move. It happens to everyone but one thing we can promise is that it will not be a big deal. You will laugh at yourself, get up, and dance again, improving and feeling more confident with every practice.
5. Do Some (Fun) Research.
Dancing is wonderful fun at all levels. It is invigorating and good exercise as well as a fantastic way to meet new people. Dancing makes you feel alive and find a sense of freedom that you can't find anywhere else. It's gives you the opportunity to be creative, and let that passionate side to you out.
If you are still unsure which dance style to choose then doing some research is going to be an extremely enjoyable way to work out what you like.
Go Watch a Show.
Now going to watch a show is a great night out. Grab your friends, your partner, or just go by yourself and watch a cabaret show.
Some shows are cheap and cheerful, but there are also some much more expensive such as the Moulin Rouge in Paris, France, one of the world's most popular burlesque shows. While they may be costly, they are well worth the price as a once in a lifetime experience that has to be seen to be believed.
Get Your Family and Friends Involved.
For thousands of years dance has been used to connect people and bring them together. Dance exists in every culture and race. If you are not confident enough to start dancing alone, bribe or force your family and friends to come with you.
Many parents will have never danced themselves but have children that dance both professionally and for fun. Being a dance Mum or Dad can be a lot of work, but immensely satisfying and rewarding for the children and the whole family. Encouraging children to dance will ensure they build friendships, learn patience, and how to work hard and succeed, and is great exercise. it keeps chioldren's bodies and minds healthy, and will make their parents proud at every level of dance. It can even be enjoyable picking out, trying on and buying the child's dance costumes.
Just imagine how proud you would be watching your daughter dancing in this stunning Charismatico sequin fuchsia pink silver costume.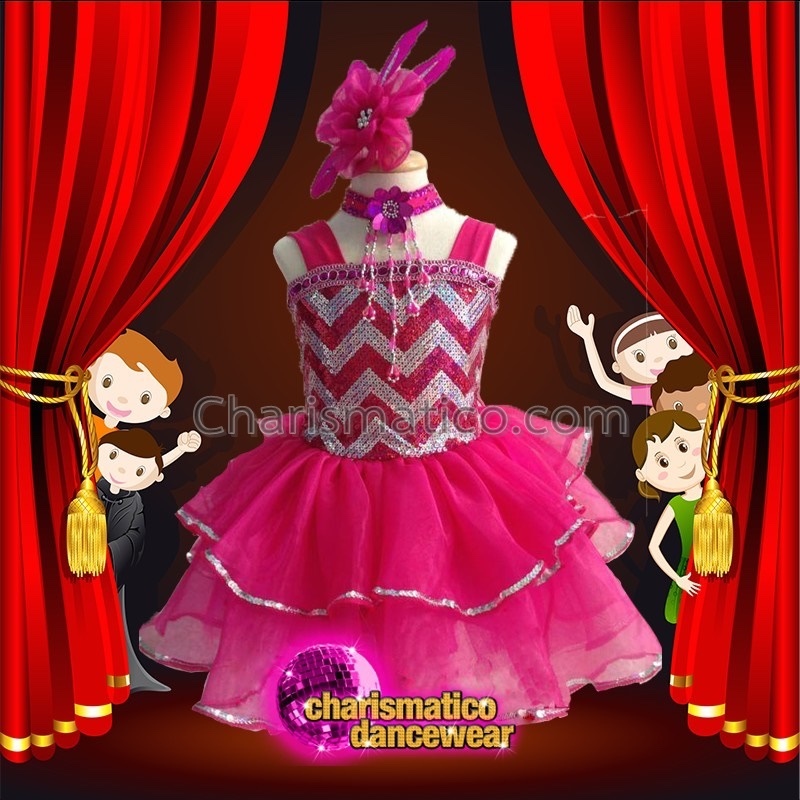 Of course, there are many other styles of dance other than latin, but whichever dance or dance style you choose, you are guaranteed to have a lot of fun. What are you waiting for?!