The corset is one of the most versatile pieces of clothing around. While this garment is often associated with the sensual, the fact is it too can be worn in regular, daily events, and even in dance performances.
The History of the Corset
The corset first seeped into human consciousness in the 1550s, thanks to Catherine de Medici. Miss Catherine was the wife of King Henry II of France. For some reason, she developed a dislike to the sight of thick waists in court appearances. Fueled by her disdain, she implemented a ban on such figures in court.
What's a lady from that era to do? If she wanted to maintain her appearance on court, she had to look for methods to achieve a curvier, thinner-waisted figure. Surgery was out of the question; it was too extreme, not to mention expensive and impractical.
The solution came in the form of an external piece of clothing they can take on and off, depending on the occasion. Thus, the corset was born.
The Corset as a Dance Costume
Recent interest in corsets was revived with the production of films that depict characters garbed in elegant, elaborate corsets. Take the movie Moulin Rouge, for example. The film showed the fun, flamboyant side to corset wearing.
What used to be a garment put on for medical and aesthetic reasons has taken on an entertainment aspect as well. Granted, the corset has occasionally taken a bad rap, what with it being linked to body-image disorders that often affect young women.
However, the corset was never intended for such purpose. The garment requires construction under the hands of skilled corset makers, referred to as corsetiers. When made under expert supervision, the corset is actually well fitting and comfortable.
Stumped as to what to wear for a dance event or presentation? The corset can save your day! Here are 5 compelling reasons you should don one for your dance affair.
1. A corset enhances your shape.
Before anything else, remember this: whatever your shape, you're beautiful. That being said, why not take that beauty up a notch by wearing a corset dance costume for your event?
Corsets are highly adaptable, and they come in all cuts and forms. Whatever your body type, thanks to the wide variety of corset designs, you're sure to find out that flatters your shape.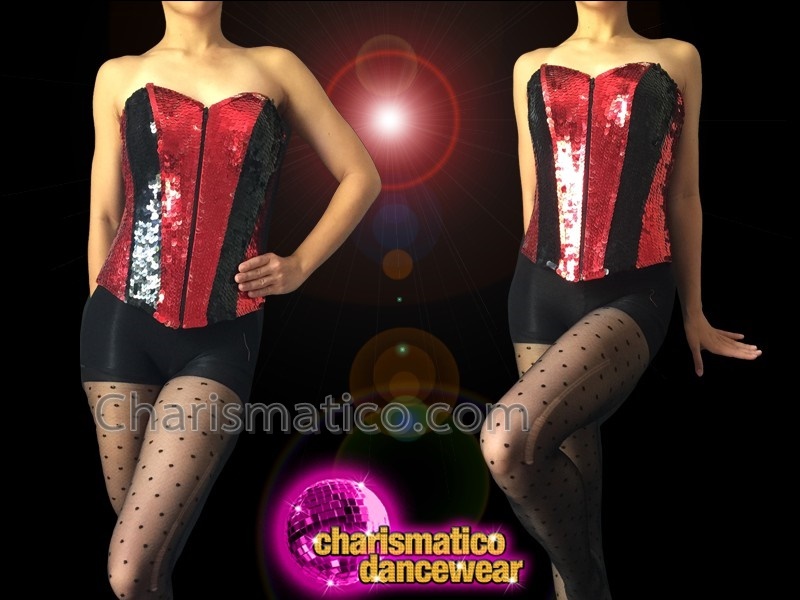 Take this sparkling red number, for example. The corset in itself is enough to highlight your curves in all the right places. But why stop there? Black side accents further emphasize the illusion of an hourglass figure, as well as make for an interesting contrast with the red sequins. With this corset, you've never been shapelier.
2. A corset makes you look sleek and put-together.
If you're after a clean, well-put-together look for your dance performance, why not dress up in a sleek black corset that screams understated elegance? You can never go wrong with black; it will always be in, after all.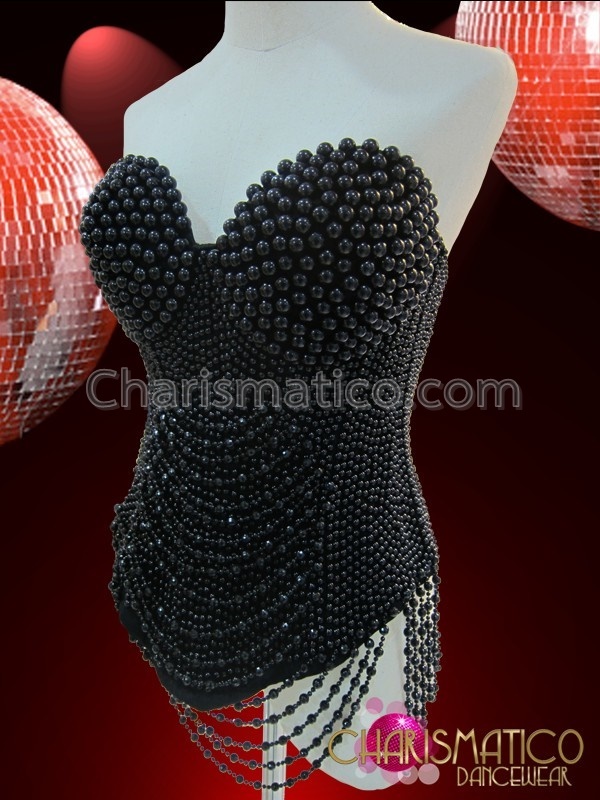 When you opt for a corset, you don't need to do anything else. The garment itself makes a statement; therefore, you don't need to pile on the details for the rest of your costume. Even if you go for simple bottoms and low-key accessories, the corset is sleek and stylish enough to capture the attention of your audience.
3. A corset adds to your character.
Sometimes, in dance, you need to portray a persona that's more feisty than your own. A good way to pull that off is to channel all that powerful energy into a well-chosen costume, such as a corset.
To add power and passion to your performance, pick a corset that captivates and tantalizes. As you can see, this black number draws in your audience; they wouldn't be able to keep their eyes off you as you dance.
Also, the corset's style and cut evoke confidence and control. Make the costume work for you by adopting a fierce persona, which would be challenging to pull off if you're garbed in another costume.
4. A corset emphasizes your costume/theme.
It's fun to dress up with corsets in the picture. You can be anyone you want to be! Amp up the convincing factor by picking a corset that meshes well with your dance theme.
For instance, you can unleash your inner Lady Gaga with the help of this yellow corset. The corset comes in only 2 tones, but they're tones you can easily work with. A few finishing touches here and there—with a few low-key accessories, perhaps—and some matching gloves or headgear, and you're good to go.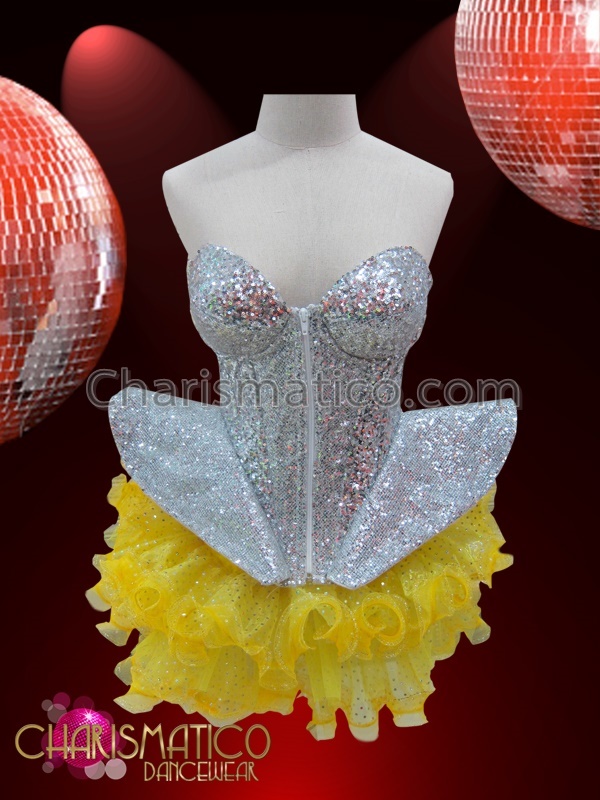 In addition, it helps that several artists and celebrities wear corsets during performances. So if you're after the look of a particular artist, all you need to do is check if they've a performance or two where they wore corsets. If they did, then you can select one that's closest to what they had worn.
5. A corset improves your posture.
Posture is a crucial factor in dance. You need to be up and straight without being stiff. Sometimes it can be challenging to keep your posture in check, especially when there's so much going on. Fortunately, for those times when your mind has to focus on other things, a corset can keep things up for you.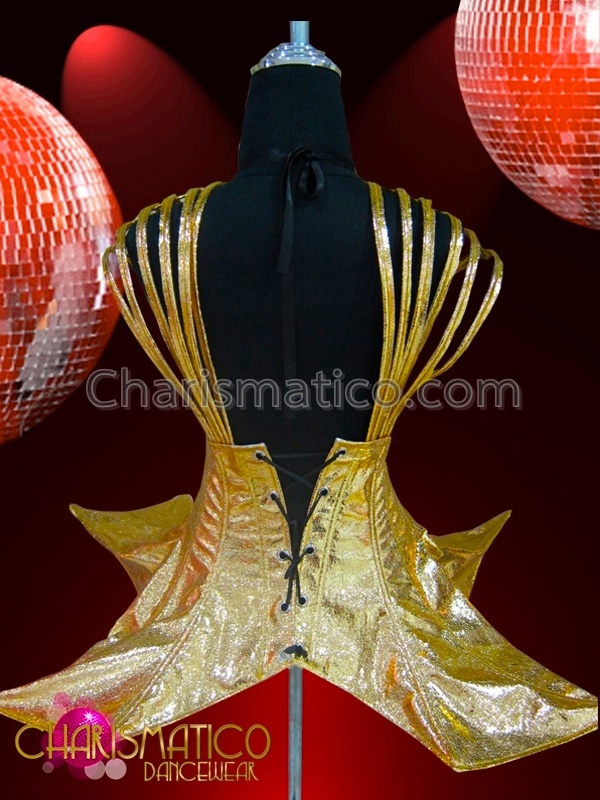 Remember, the corset was initially intended to "provoke" a shapelier figure for women and to improve posture (in the medical aspect). This feature comes in handy in your dance performances, particularly in instances wherein you're required to stand tall and proud.
When it comes to posture-related concerns, you can count on the corset to deliver.
The Corset as a Versatile Garment
Whether you're out to knock your audience's socks off or simply want to make a statement at a party, you can never go wrong with a corset. You can choose from a wide array of designs without sacrificing fit and comfort.
Break the fashion stereotypes. Do away with so-called stringent rules, and be bold and daring enough to experiment! The corset will be with you in every step of the way.