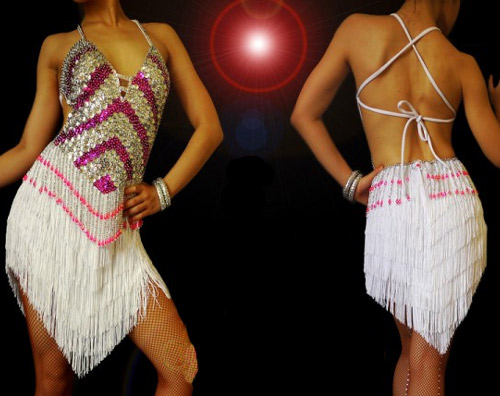 In ballroom dancing, there are three different aspects that should be paid attention upon. Those are rhythm, technique and costumes. The first two are pretty obvious but the latter might sound intriguing to most of you. Yes, ballroom gowns and dresses do play an extremely important role in the land of this dance.
Let us all take a real quick look on ballroom dance and its history. Ballroom dancing has already been around for a few centuries. It's a classical form of dancing which is truly timeless unlike Hip Hop and such which has just been existing for a little while. There are a whole lot of variations of ballroom dancing but all of them are bound to be performed for social and competitive reasons.
From the 16th century up until this era, ballroom has widely evolved and is still eager to offer the world with an interesting craft of art.
As we take a sight on the past, ballroom dancing was executed more for social reasons rather than competitive reasons. However, as of the modern day, it works the other way around.
Competitive ballroom dancing ranges from amateur to professional sections. Oftentimes, for a deeper terminology, this type of ballroom dancing can be referred as Dancesport.
Why are costumes crucial in ballroom dancing?
Apart from technique and rhythm, costumes should be taken into consideration when performing a ballroom dance number. Great techniques and impeccable rhythm would appear trashy if matched with a crappy costume.
You pay massive time and effort to master every dance step; it is a definite must to do just the same for your ballroom dance costumes. You can never perform cha-cha, rumba, tango, and such with grace by having a totally awful outfit.
Ballroom outfits are not just chosen based on aesthetic purposes. Choosing the ideal costume requires strategic thinking too. You shall not pick a costume just because it looks good. There are important things to bear in mind while deciding on which ballroom outfit is perfect for you and your specific performance.
What are the fundamentals in a ballroom dance outfit?
Professional as well as amateur ballroom dancers must know the proper attire when dancing. Only then can one be officially called a "ballroom dance performer". From dancing classes, to rehearsals, up until the final performance, you have to wear the right kind of outfit before you boast your ballroom moves.
For the standard ballroom dance attire, nothing much is stricter than the ballroom shoe wear. Men should be wearing ballroom shoes which somehow look like a typical pair of dress shoes. An inch heel is suggested for men's ballroom shoes too. On the other hand, women should be keeping their feet on a comfy pair of court shoes or an open toe sandal. Court shoes resemble a closed toe pump with around two-inch to three-inch heels. Basic ballroom shoes are not expensive as long as they are made in a conventional manner.
As for the outfits, women's outfit varies more than men's outfit. As you would notice, male ballroom dancers' outfits don't seem as fancy as their partners'. However, that doesn't imply that men shouldn't properly pick the outfit they would wear. A dress shirt, or even a basic shirt, and a dress pants would work just fine for men.
For women, long flowing skirts are recommended. Any other type of skirt can restrict women from dancing comfortably.
Wearing the appropriate set of attire is not all about keeping the stylishness in dancing. It's more about staying comfy, moving with ease and preventing injuries.
Those are just the basics you have to keep in mind while shopping for your ballroom dance costume. A lot of aesthetic factors should be implied while choosing the perfect attire. All the glitters, sequins and such should highly affect your decision.
Key pointers to be taken note of when choosing your ballroom dance costume
Now let us go deeper on how to pick a costume that would stand out. This is where excitement comes in. You sure will be inspired to choose a dress that's attractive and comfortable at the same time.
Shop an outfit that is unforgettable. A whole lot of dancers shall be wearing fancy skirts, shirts, and shoes. Now, your goal is not to blend with them. You have to look unique and special. How so?
You can pick a costume with a design that is memorable. Let us say a skirt with a towering slit or a backless dress that flaunts your flawless skin. Picking atypical set of colors would also work. However, bear in mind that you do not want to look like a rainbow in a sea of stars. Your aim is to shine as bright as the sun that would outshine all of the stars.
It's not enough that your costume looks good. It has to be of high quality. Buying high quality ballroom dance costume can seem tough if you're on a tight budget. Therefore, you have to invest for the quality of the materials used for your costume. A custom tailored outfit might be more costly so it would be wise to select something that's ready to wear which would tie up the challenge of fitting your vital statistics. But remember, there is this thing called tailor repair.
Apart from cost and quality, you have to pick a ballroom dance costume that brings you enough comfort especially when dancing. While wearing a costume, you should be able to step hugely, lift your arms well, kick towards any direction and groove swiftly. If not, then you're not wearing an ideal outfit.
Mistakes to avoid when shopping for the ideal ballroom outfit
You do not want to get into trouble while shopping for your dancewear. This task has to be an exciting one and not a dreadful experience. Thus, there are a few notes you have to keep in mind as you select and buy your ballroom outfit.
First, check the company you are buying the dress from. The dress company has to be reputed and has to be present for quite a while in the industry. You do not have to buy from high-end companies, but as least purchase from a legit dress supplier.
Also, avoid buying extremely cheap dresses. You've got two options. Buy a cheap dress that would be good for a single usage or two. Or, purchase a quality dress that would share good memories with you as you hit various dance floors.