As many showgirls know, one of the key parts of any show is the costume. The right outfit can add something spectacular to your performance; providing that extra 'wow factor' for the audience. Finding a show stopping costume can be hard work, but we've got plenty of inspiration to help you on your way. Here are some of the most memorable celeb showgirl costumes to spark your creativity.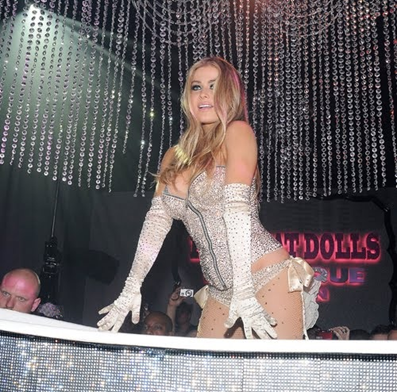 Carmen Electra
Did you know that this supermodel, dancer and actress also used to perform burlesque? That's right, Carmen Electra is pretty big in the burlesque world. The former Pussycat Dolls member is no stranger to showgirl outfits either - as this costume goes to show. The stunning mix of glitz and glamour, and the sequinned corset, is sure to turn the audience's heads. We absolutely adore that she finished the look off with matching, sparkly long gloves. This isn't a costume you can forget in a hurry!
Beyonce
Queen Bey knows how to pull off pretty much any outfit, so of course we weren't surprised with how amazing her showgirl look was. The singer is one of the most influential celebrities on the planet, with an incredible sense of style. No wonder so many audience members were bowled over by this outfit! The key piece in this costume has got to be that feather headdress. The ombre tones of the feathers bring some subtlety to such a statement accessory. Top it all off with the big hair and short skirt, and there's no denying Beyonce has got the showgirl look down to a T.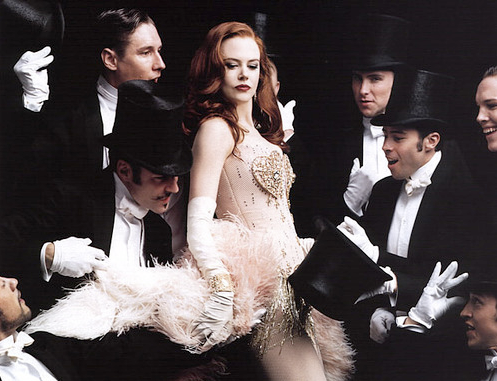 Nicole Kidman
Possibly one of the most iconic movies of all time - Moulin Rouge. Nicole Kidman managed to rock some pretty mind-blowing outfits in the film, but this has to be one of our favourites. The feathers, the frills, the glitter, the hearts. It's the ultimate showgirl costume! Satine, as her name was in the film, finished off her look with satin gloves. We could have chosen plenty more from Moulin Rouge, but this tops our list!

From some modern greats through to a timeless classic. Lana Turner was an actress famous throughout the 20th Century, known for featuring in movies such as Imitation of Life and Madame X. She also took part in the Ziegfeld Follies, on Broadway, which is where this jaw-dropping outfit comes from. The incredible skirt and the crystal headdress are completely out of this world. A list of the most memorable celeb showgirl costumes wouldn't be complete without this Lara Turner dress!
Jennifer Aniston
She's one of those celebrities who just seems to get better and better. Magazines featuring Jennifer Aniston fly off the shelves and it's not hard to see why. She can pull off almost any look, including the showgirl style. She also goes to prove you don't necessarily need to have stars and feathers to steal the show. This simple red leotard look may seem basic compared to some of the others on the list, yet it still remains iconic. What does that tell you?

Cher
Cher is yet another celebrity on our list with so many iconic showgirl looks. From the daring black costume and headpiece at the 1986 Academy Awards, through to her outfits in the 2012 film Burlesque. There's no denying that Cher really knows how to put on a show! This has to be one of our favourites - even though there were so many to choose from. We love the circus ringleader jacket and hat. Complete with what just looks like a dazzling gem curtain for the rest of her body.
Kylie Minogue
When you have a greatest hits tour called Showgirl, you're pretty much guaranteed a place on this list. Kylie Minogue has always been known for adding a little bit of sparkle to her costumes and shows. However, her Showgirl tour saw her costume designer went all out to create some gorgeous pieces. Looking at the stars on this dress, we can't help but wonder if she got inspiration from Lana Turner. The feather headdress and deep blue hues tick all of the right boxes, too.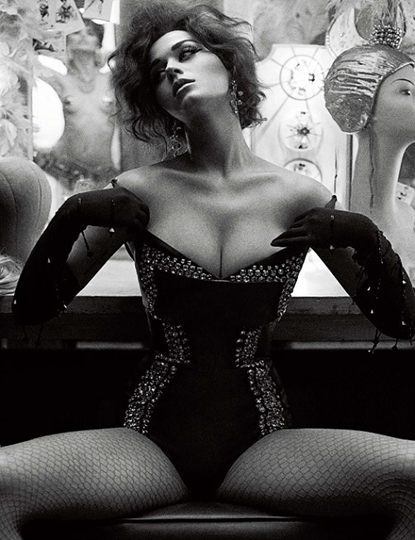 Katy Perry
Another celebrity on our list who is no stranger to showgirl style outfits! In fact, she once joked that she would be an ageing Vegas show girl in the future. While we could have chosen plenty of outfits from her tours, there's one that really sticks out. And it's not even from a show! This image was taken as part of a showgirl style photoshoot for Interview Magazine, back in 2012. Katy Perry shows a slightly darker and brooding side to the world of showbusiness. These pictures - and the retro style black leotard - give us goosebumps.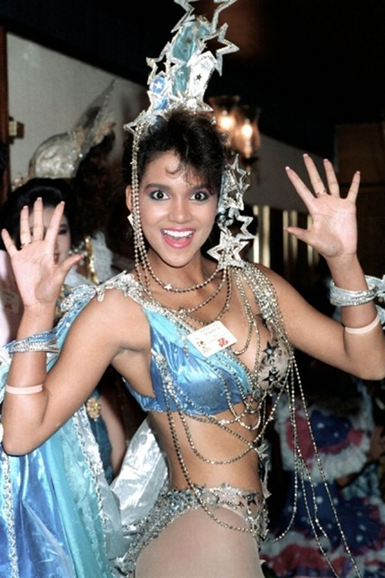 Halle Berry
Did you know that Halle Berry was the first African-American woman to win Miss World, back in 1986? It's a little-known fact about the now multiple award winning actress, but it totally makes sense. She's gorgeous! One of her outfits for the competition was pure showgirl, so we had to include it on our list. The gorgeous blue tones, the stars, the glitz. It is all there. One look at this picture and it's easy to see how she managed to secure that title.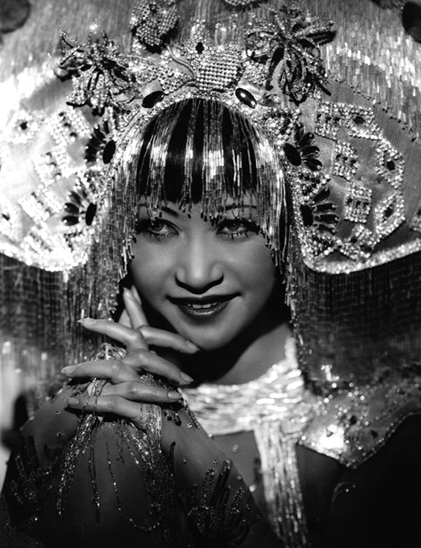 Anna May Wong
Dubbed as the first Asian-American Hollywood starlet, Anna May Wong had a serious sense of style. Combining her quirky tastes with a classic showgirl look, she always managed to dazzle in photoshoots. We can't get enough of this look, with what looks like a million tiny beads as embellishment on her wig. Although this photo is black and white, you can still picture the sparkle that would have come off this costume.
These are just some of our favourite celebrity showgirl costumes, but there are plenty more. They all go to prove how you can turn heads and take your show to the next level, by picking the right outfit. Next time you plan a performance, ensure you have the perfect costume by using these wonderful women as inspiration.